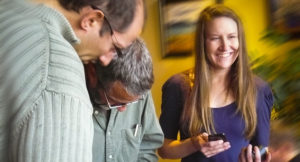 Jamey Hastings
Producer, Director, Videographer, Editor
Jamey Hastings is a video producer, director, cinematographer, and editor with 14 years of professional experience. Prior to launching You May Clap Productions full time, she worked as a producer and director at Pikes Peak Library District, creating promotional, educational, and documentary films, as well as capturing live events.
Her documentary work has earned her a Silver Telly Award (
In Our Own Backyard: Reflections on the Waldo Canyon Fire
) and a Heartland Emmy ("Colorado Springs Beat: The News Photography of Stan Payne"). She has earned five additional Bronze Telly awards for her library work as well. In 2018, her documentary
This Wall Connects Us All
screened at the Community Built Association conference in Charleston, SC. The film follows staff and volunteers with local arts organization Concrete Couch as they create a mural at Penrose Library in Colorado Springs.
Hastings' work at You May Clap Productions has included projects for the Humane Society of the Pikes Peak Region, Catamount Institute, Design Rangers, Dragon Theatre Productions, Pikes Peak Sports, Landmark Community School, Hyde CORE Lab, Ventura Ranch KOA, and the Rocky Mountain PBS program, Hittin' the Road. Additionally, Hastings has produced several short films for You May Clap Productions, including "Ten Past Two," and "Clippings," which was the recipient of a 2018 Pikes Peak Arts Council award. Hastings was also a finalist for the first annual Peak Arts Prize in 2018.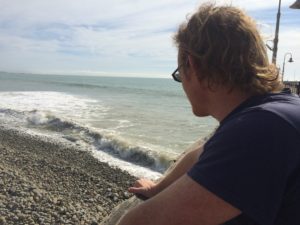 travis duncan
co-Producer, writer, musician
Travis Duncan is a writer and musician with over 15 years of professional experience. Travis has worked as a journalist for the Colorado Springs Independent and Gazette. His freelance articles have been published in The Saturday Evening Post, Tricycle: The Buddhist Review, and American Libraries. As a musician and actor, Travis has performed in productions by the Millibo Art Theatre, Star Bar Players, Springs Ensemble Theatre, UCCS THEATREWORKS, Dragon Theatre, and Theatre 'd Art. He has worked on the musical score for multiple You May Clap productions, including the short films, "Dink" and "Channeling the Wild."